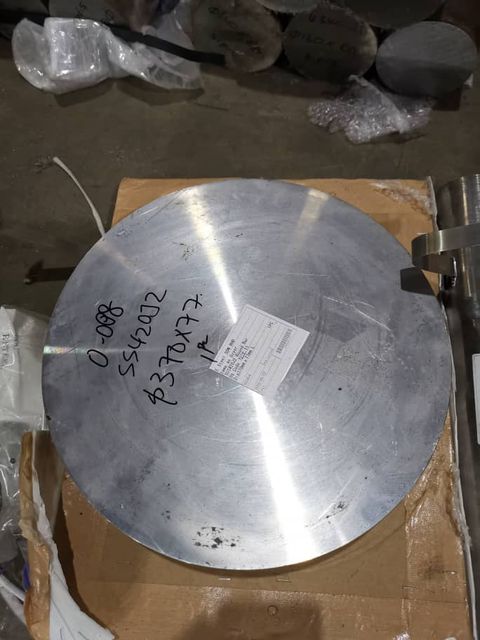 Stainless Steel 420 | SUS420 | 1.4021 | 1.4028 | 1.4034 | 1.2083 | ASTM A276 | S42000
We are leading supplier of SUS420/ SUS420J2 Indonesia, Thailand, Singapore and Malaysia. Stainless Steel 420 is a higher carbon version of 410; like most non-stainless steels it can be hardened by heat treatment. 420 stainless has a 13% chromium content which gives the specification a level of corrosion resistance properties.
Stainless Steel 420 (or known as SUS420)
Chemical Formula :
Fe, <0.15% | C, 12.0-14.0% | Cr, <1.0% | Mn, <1.0% | Si, <0.04% | P, >0.03% | S
----------
Background :
Grade 420 stainless steel is a higher carbon version of 410; like most non-stainless steels it can be hardened by heat treatment. It contains a minimum of 12 per cent chromium, just sufficient to give corrosion resistance properties. It has good ductility in the annealed condition but is capable of being hardened up to Rockwell Hardness 50HRC, the highest hardness of the 12 per cent chromium grades. Its best corrosion resistance is achieved when the metal is hardened and surface ground or polished. Related grades to 420 are high carbon high hardness martensitic stainless steels such as the 440 series (see Atlas Steels Datasheet on this series of grades) and also variations to 420 containing molybdenum (for increased corrosion resistance), sulphur (for increased machinability) or vanadium (for higher hardness). A slightly higher carbon version of 420 is the non-standard grade 420C. Martensitic stainless steels are optimised for high hardness, and other properties are to some degree compromised. Fabrication must be by methods that allow for poor weldability and usually also allow for a final harden and temper heat treatment. Corrosion resistance is lower than the common austenitic grades, and their useful operating temperature range is limited by their loss of ductility at sub-zero temperatures and loss of strength by over-tempering at elevated temperatures.
----------
Corrosion Resistance :
Grade 420 has good resistance in the hardened condition to the atmosphere, foods, fresh water and mild alkalies or acids. Corrosion resistance is lower in the annealed condition. Performance is best with a smooth surface finish. Less corrosion resistant than the austenitic grades and also less than 17% chromium ferritic alloys such as Grade 430; 420 also has slightly lower resistance than grade 410.