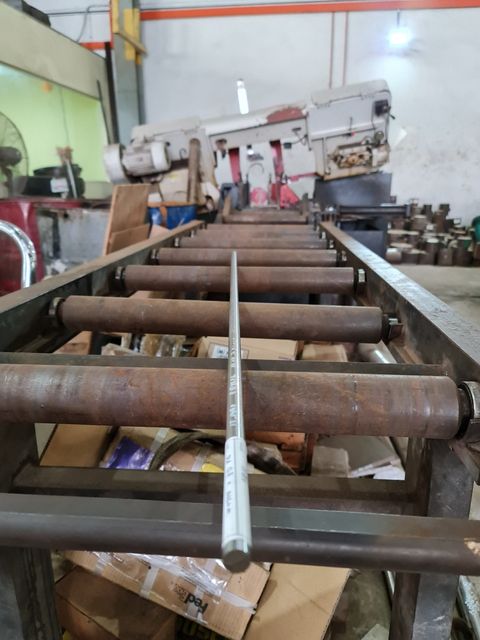 Stainless Steel 416 | SUS416 | S41600 | 1.4005 | X12CrS13 | AISI 416
We are leading supplier of stainless steel 416 in Singapore, Indonesia, Thailand & Malaysia. 416 Stainless Steel is a free-machining basic straight chromium high hardenability martensitic stainless steel with excellent machinability, reasonable strength and corrosion resistance. Most common stainless steel grades available : • 403 (UNS40300) stainless steel • 409 (UNS40900) stainless steel • 410 (UNS41000) stainless steel • 416 (UNS41600) stainless steel • 420 (UNS42000) stainless steel • 430 (UNS43000) stainless steel • 431 (UNS43100) stainless steel
Stainless Steel 416 (or known as SUS416)
Stainless Steel 416 is a free-machining basic straight chromium high hardenability martensitic stainless steel with excellent machinability, reasonable strength and corrosion resistance. Generally supplied either hardened and tempered in the tensile range 550 – 700 Mpa (condition P) Brinell range 152 – 207, or in the annealed condition with a maximum Brinell hardness of 207. Characterised by excellent machinability, non-galling and non-seizing properties due to its higher sulphur content which has the effect of lowering its corrosion resistance. It is, however, resistant to mild corrosive atmospheres, fresh water, steam, organic materials, many mild acids and petroleum products, coupled with reasonable strength in the hardened and tempered condition.416 due to its excellent hardenability is capable of being through hardened up to Rc40 depending upon carbon content and section size. Small sections can be air-cooled and larger sections oil quenched for maximum through hardness. Prehardened and tempered 416 will also respond readily to nitriding achieving a typical surface hardness of over Rc65. The nitriding process, however, reduces the corrosion resistance and is therefore not generally recommended except for critical applications where the benefit outweighs all other considerations.
----------
Corrosion Resistance :
416 due to its higher sulphur content has lower resistance to all corrosion types than grade 410, and indeed all of the 400 series martensitic stainless steels. Its selection therefore is generally based upon its excellent machinability coupled with its lower corrosion resistance capabilities.